Disgusting t-shirt making light of rape.
The f-word uk blog
picked up on this t-shirt from
David and Goliath
(the same company behind the dubious "Boys are stupid, throw rocks at them" brand).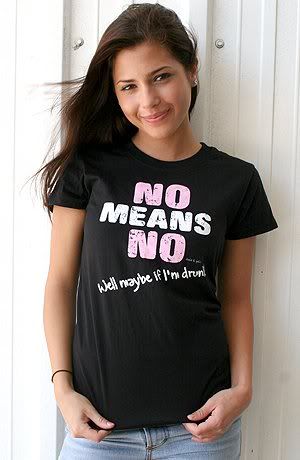 I very quickly emailed them at david@davidandgoliath.com, although other people emailed them at questions@davidandgoliath.com. Perhaps mean spiritedly I hope the company gets floods of complaints about this.
"Your "No means no, well maybe if I'm drunk!" is a horribly tasteless and irresponsible. I cannot believe that a retailer would actually produce a t-shirt making light of rape, especially aimed at a young audience. This perpetuates the view that plying someone with alcohol until they 'consent' is acceptable. Shame on you!"
I know this isn't strictly to do with beauty standards, but, as I have seen many t-shirts with similar sentiments, it certainly says a lot about what some clothing companies think of women and rape. Frighteningly a lot of the public probably shares the same attitudes.
Comments {10}